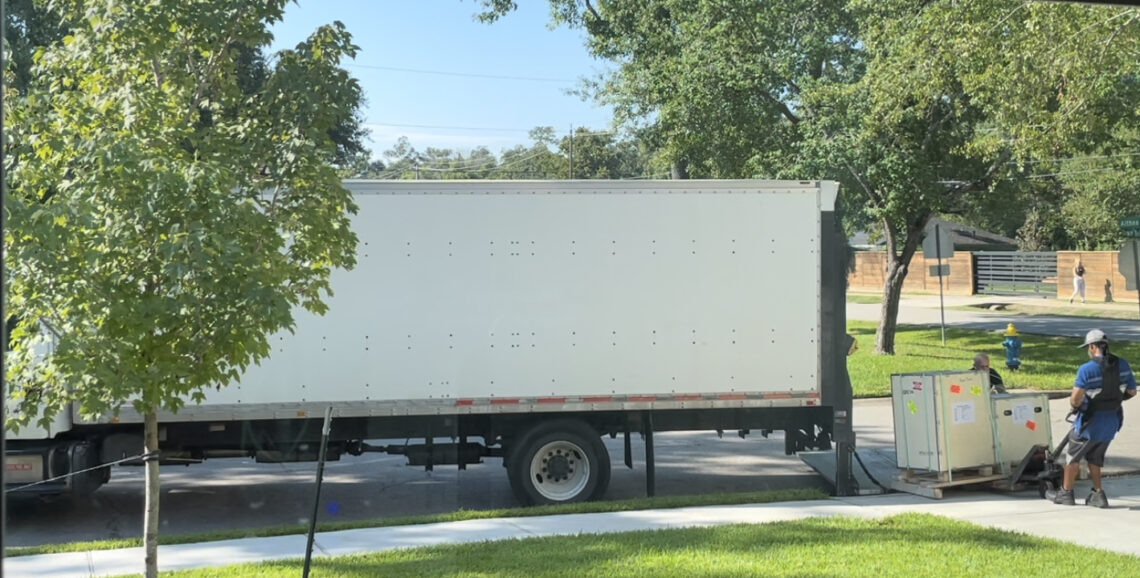 My New 60g Cade Reef Tank
Another tank!
My previous article, "The Tampa Bay Saltwater Experience" showcased my experience with ordering and picking up "The Package" from TBS. I've used them to start all of my previous saltwater reef aquariums and this one was going to be no different. Welcome to my newest build… the "Mixed Reefalicious Cade 600", a Cade 600 S2 Reef Tank.
It's been a while since my previous tank. And even longer since my previous saltwater reef tank. We sold our house and moved into a rental property for a little over a year while we built a new house. Then moved into the new house and got settled before I finally got around to thinking about another aquarium.
Inflation is crazy in 2022/2023, there are other expenses with the new home, kids, etc… so this tank is going to be a bit more modest than previous. After much research, I settled on a Cade Reef 600 S2. It's approximately 57 gallons (display) plus the sump. I have always been a fan of cube tanks and this is one of the very few available. In fact, I believe it was the only one available that came as a complete kit with the stand and sump and wasn't too small or too big.
Why did I choose to go with Cade?
Cade Reef is a fairly new outfit out of Australia. They partnered up with Algae Barn here in the USA to work as a distributor and handle USA customer service. There were several reasons why I chose to go with the Cade 600 S2 reef tank for my next aquarium build.
These are the reasons I chose to go with Cade for my next aquarium:
Quality – from what I could see online, Cade developed a fairly high-end line of aquariums. Ultra clear, low iron glass with beveled and polished edges. A metal stand. Glass sump. Quality plumbing and valves. Nice design details both in form and function.
Metal Stand – This was a big one. Wood stands are "ok". Particle board stands definitely are not. Water is no friend of paper and wood, so a metal stand is preferred. Cade's stands are all metal framing with glass panels on the doors which are painted on the back side to make them opaque, but glossy. Two sides open up to access the sump area, and the other side contains space for placing electronic equipment. The Cade 600 S2 reef tank also comes with a removable metal shelf to help hold wiring and electronics or whatever else you wish.
Size and Shape – The space I was looking to place the tank was not very large. I wanted to work with a tank size of around 24-36″ in length but really closer to the 24″ end if possible. The problem with most tanks is the proportion of being long, but not deep (front to back). I always prefer a deeper dimension allowing for good rock placement and still having room for coral on the sand bed. I also have a fondness for cube tanks but they have become unpopular due to aquascaping challenges. The benefit for me, in this case, was the additional water volume in a tank that didn't need a lot of wall space. This tank is approximately 23x23x23 of the actual inhabitable display.
Unique overflow design – The entire back wall of the tank contains an additional 4″ of compartments, similar to what you might find on an All-In-One desktop aquarium. About half of it contains the drain plumbing (Primary and Emergency), and the other half is space for ATO water. The large ATO section is unique to Cade!
Everything included – I've been around the hobby long enough to remember the days where everything would be acquired separately. You would find a tank (locally or have one custom-built). You would build (or have built) a stand. Make countless trips to Home Depot for plumbing bits. Build or purchase a sump to go with it. It was fun, but it was a long process. I really didn't have the time or patience for all that this time. Thankfully, it's a whole different ballgame these days, with plenty of choices out there for complete kits. Cade sends EVERYTHING you need except for electronics and things like skimmer and other equipment. You get the tank, the stand, all plumbing (with major sections already complete, so no gluing), an all-glass sump, the ATO previously mentioned with a float valve in the sump, a dj switch for easily turning equipment on and off, the cabinet for mounting/organizing electronics, and they even include a screen top AND extra bits if you need to reconfigure the top to fit around wiring or something.
Arrival and Unpacking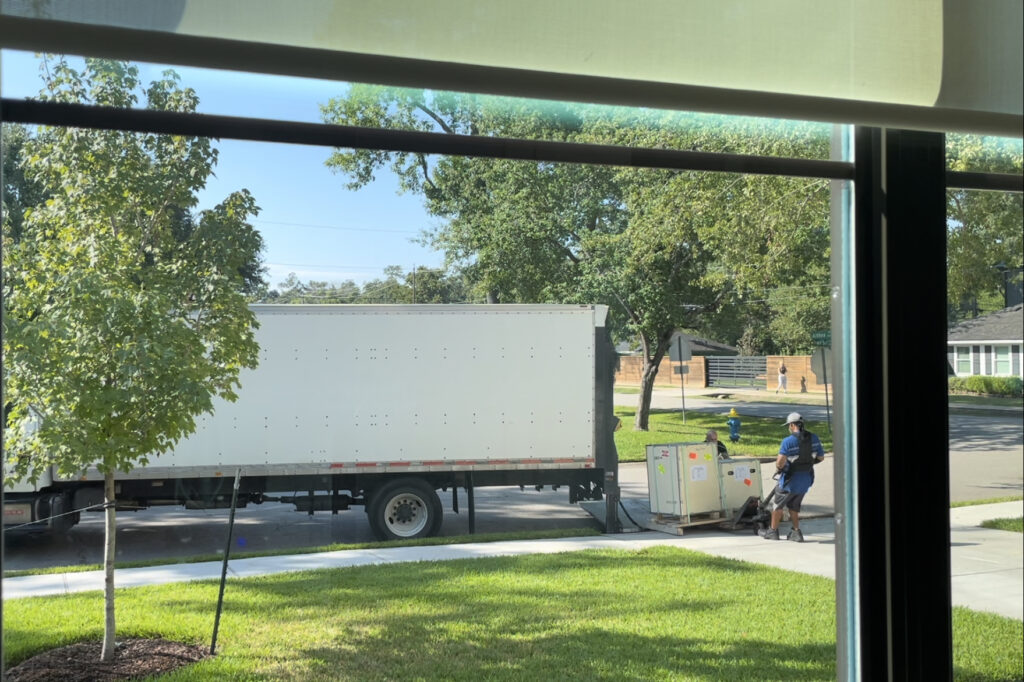 I placed the order for the tank through my local LFS, who then ordered it through Algae Barn. From the time of order to the time of arrival was about 2 weeks. It arrived via freight and was VERY well packed. I put together a fairly long video of the arrival of the tank, unpacking it, and a look at it in place.
Here's some detail shots of the tank and stand
Great silicone work, nicely beveled glass, unique ATO and plumbing setup, quality hardware… many nice details.
Sand and Rock
Now that the tank was in place, I was able to get it all plumbed and then filled to test for leaks. After this, it was time to place my order with Tampa Bay Saltwater for the sand and rock. I do this to essentially skip the initial cycle and provide the tank with a solid, healthy start from the beginning with tons of good bacteria, micro-fauna, and other things that help to create a stable environment. Plus I love all the things that come along with it like sponges, tunicates, macroalgae, crabs, snails, starfish, and other fun and interesting things.
Here's a look at the rock I got from TBS.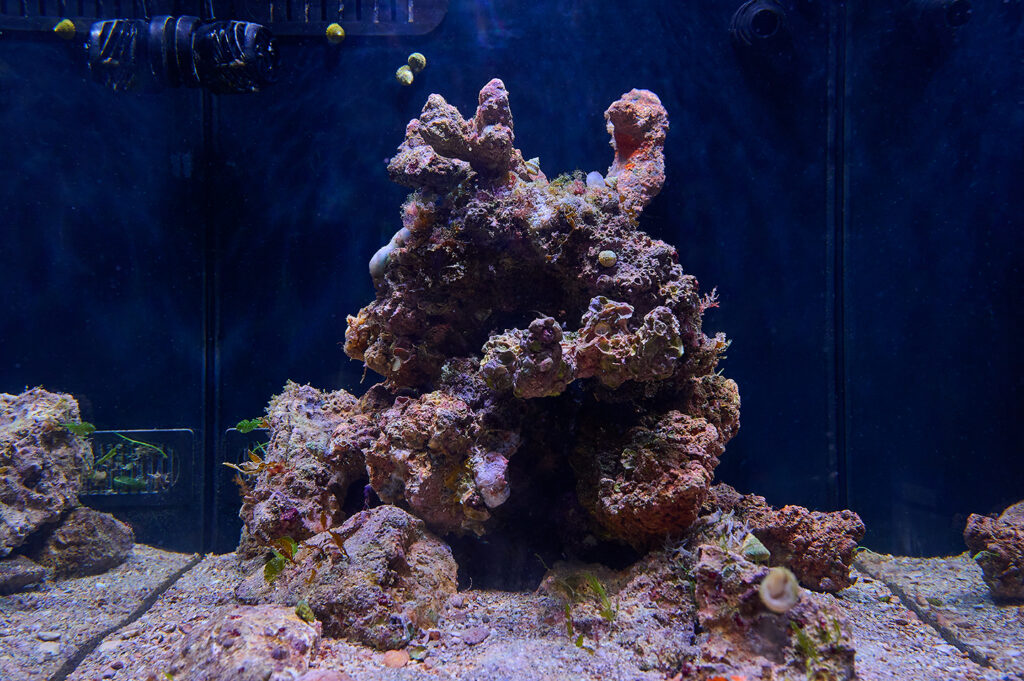 Fully set up and ready to rock n roll!
Water? Check. Sand? Check. Rock? Check. Cycled? You betcha! Within 24-48 hours I was registering Nitrates and had zero ammonia. Time to start looking for fish and a coral or two! I also got my electronics squared away, along with setting up my new DIY dosing containers.
And to bring you up to date, I started with a few nice fish, a few LPS coral, and I'm just now about to try some SPS coral. Oh, and I even put a Mangrove plant in the tank! We'll see how things go over the coming months. Hopefully it's a fairly smooth ride. But hey, this is the Reef Aquarium Hobby, where things are rarely smooth sailing! 😉
Here are a few closing pics with recent acquisitions. Thanks for reading! Check back for more updates soon!
I sometimes link directly to products and services that I REALLY like and think you may enjoy or find useful as well. If you buy them, I may get a small share of the revenue from the sale from our partners.
Please follow and like us: