Best Value Mirrorless Cameras I love in 2022
It's been a while since I've talked about camera equipment. Although the basics may stay the same, technology keeps moving at a rapid pace. Below I will offer some suggestions on what I feel are the best VALUES in mirrorless cameras today. Not the least expensive, but the ones I feel offer great performance at a fair price. If you feel that you are (or will be) at all serious about your photography, get something that will work for you long term, but without buying into features you won't really need. So let's take a look at what is out there today and what I feel are the best value mirrorless cameras in 2022.
Why Mirrorless?
Many of you are here because you are looking to step up from your camera phone. Camera phones are pretty amazing these days, but they still have limitations. If you really want to take control of your images, you need to step into the world of the digital SLR. But what if you don't want the SIZE of the typical DSLR?
There is where Mirrorless shines. Mirrorless is the most exciting development in cameras since the birth of digital photography. In this article we'll take a brief look at some of my favorite models! Mirrorless retain the quality, control and flexibility of a DSLR with their large sensors, exposure adjustment and interchangeable lenses. And by forgoing the internal mirror, they have the potential to be smaller, lighter, quieter and faster. They will still be much larger than your phone. But the image quality and control you'll have will be worth it.
Since they use their main imaging sensor for focusing, they also have the potential to track and focus subjects right into the corners while also exploiting face and eye-detection. Sometimes even for animal subjects. With 100% electronic composition, you'll also be able to use a viewfinder for everything you'd see on the screen, including playing images, assisting focus, previewing effects, white balance and colour adjustments, as well as filming and playing movies, and even navigating menus – all much easier in bright conditions than using the screen, not to mention more comfortable! You may have stumbled on this page because you are in the aquarium hobby, but what happens when you want to leave the house with your camera but don't want to be weighted down? Mirrorless to the rescue!
So let's take a look at a few brands that offer some really solid options that won't cost you an arm and a leg. Especially since at the time of this writing, we are in the middle of one of the worst periods of inflation in history!
Nikon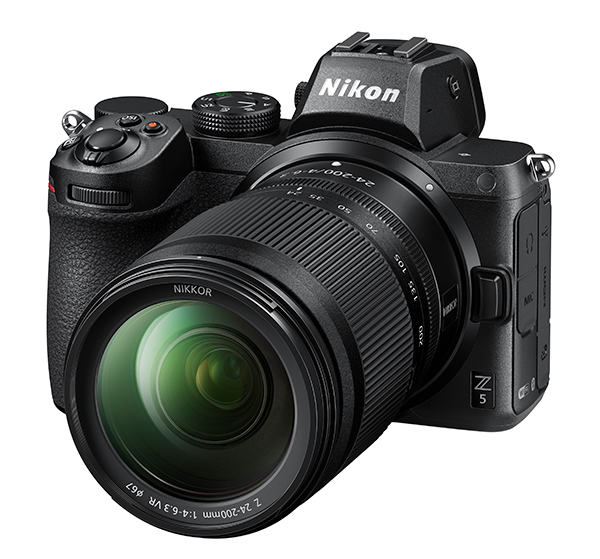 Since the company was founded in 1917, Nikon has been synonymous with optical instruments. Today, they are killing it with their Z range of mirrorless cameras and lenses. They offer full frame sensors or cropped "DX" sensor cameras. I'm personally using the Nikon Z6 to shoot professionally. Full frame is my preference to make sure I'm getting the most dynamic range possible with less noise. The DX cameras will be more affordable at only a slight loss in image quality.
So in keeping with the nature of this article, I'd recommend the Nikon Z5 if you can step up to full frame. If not, you can go with the Nikon Z50 or the new Nikon Z30 which will still get you into the Z family but at a substantially lower price point. One thing to note if deciding between full frame and cropped sensors is that there are more native full frame lenses to choose from. You can use a full frame lens on a cropped sensor camera body, but it will be cropping in on the image. A 28mm lens will look more like you shot with a 35mm lens.
Canon
One of Canon's best mirrorless values is the Canon EOS M50 which packs a 24 Megapixel APS-C sensor. Once again, be aware that if you choose any of Canon's EOS M cameras, the native lens selection is fairly small. Although, you can use EF lenses with an adapter.
Fujifilm
Fuji may not be the first name that comes to mind when you think of mirrorless cameras, but they should be on the top of your list if you are fine with APS-C (cropped sensor) cameras. Fuji actually released the first ever fully digital camera in 1988 at Photokina. Today they are one of the leaders in the digital camera market. Until Fuji came out with their larger Medium Format line, APS-C is all they offered and they excel at it. From their sensors, to their build quality, to their colors, to their exceptional lens lineup… Even the retro styling/ergonomics. Fujifilm is hard to beat. And they offer some of the smallest cameras and lenses which can be key for some photographers.
There are several cameras bodies in their lineup I can enthusiastically recommend. The Fujifilm X-T30 or XT-3 are both fantastic and can be found right around $1k. The X-T20 and X-T200 (will probably have to find pre-owned) are a little older but a great value at under the $1k mark. This is especially true if you don't mind looking at the used market. Many of the macro photos you see here on this blog were shot with an X-T3 and the Fujifilm 80mm macro lens… Possibly the best macro lens I've ever used.
Sony
Right now, Sony's bargain buy is the A6000. It was one of the most popular mirrorless options for the past few years for good reason. Many argue that Sony's autofocus system is the fastest/most accurate in the game. If you'd like to step up to something with even more features and improved tech, the new A6100 might fit the bill. With either offering you gain access to an extensive range of lenses.
Conclusion
I wish I could end this with a single recommendation but that's just not possible. What I've done is given you a solid list to choose from. They are all great options with only very minor differences. No matter which you decide to go with, you can be confident you've made a solid choice.
I sometimes link directly to products and services that I REALLY like and think you may enjoy or find useful as well. If you buy them, I may get a small share of the revenue from the sale from our partners.
Please follow and like us: